Dieter Söll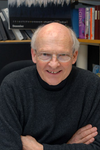 Sterling Professor of Molecular Biophysics and Biochemistry and Professor of Chemistry
Biography
Dieter Söll received his early education in Germany (Tübingen, Berlin) and England (Durham University) before earning his PhD in Chemistry at the Technische Hochschule, Stuttgart, Germany. After postdoctoral training with H.G. Khorana at the University of Wisconsin he joined (in 1967) the faculty of Yale University. In 2006 he was named a Sterling Professor, one of the university's highest faculty honors.
Dieter Söll's Google Scholar page
Research interests
A contributor to over 650 scientific papers, Dieter Söll's research interests have varied widely from genetics, molecular biology, genomics, and evolution of protein biosynthesis to gravity perception in plants. The recurring theme of his research is the understanding of the role of transfer RNA and aminoacyl‐tRNA synthetases in interpreting the genetic code. Currently he is working on expanding the genetic code in the realm of synthetic biology.
Distinctions and awards
Dieter Söll was a Visiting Professor of the Japan Society for the Promotion of Science, the recipient of a Humboldt Research Award, and twice a fellow of the John Simon Guggenheim Foundation. Dieter Söll is a member of the US National Academy of Sciences, an Associate Member of the European Molecular Biology Organization (EMBO), a corresponding member of the Croatian Academy of Sciences and Arts, a fellow of the American Academy of Microbiology, and a fellow of the American Association for the Advancement of Science.
In 1971 Dieter Söll became interested in the training of undergraduates from diverse backgrounds and created a summer research program that later became a model for other educational institutions. This led to two awards: Tougaloo College, Minority Access to Research Careers Award (2001) and Yale's Bouchet Leadership Award Medal in Minority Graduate Education (2002). In 1974 he was co-founder of a highly successful scientific journal: Nucleic Acids Research (current impact factor: 19.16). Dieter mentored many graduate students and postdocs in his career; in 2015 he was awarded Yale's Postdoctoral Mentoring Prize.
Select publications
In the news